ZHIYUN Blog
How to Become a Gimbal Master Using WEEBILL 2?
2021-10-13
How to Become a Gimbal Master Using WEEBILL 2?
Cinematography is one of the top rising skills in the world. With the daily number of increasing social media users, the need to generate quality visual content has never been in such high demand.
However, no matter how awesome your visual content is, your audience will never experience the desired effect without the right cinematography movements and positions. You want to film or capture moving images without losing camera stability and focus at most times. However, handheld camera movements can't address these situations adequately; but a gimbal can.
A handheld camera stabilizer is the device that helps create a smooth shot by creating a balanced position for your DSLR camera. It does this using the gyroscope that acts as its brain and motors that control its movement. In this article, we will guide you through how to innovate possibilities by using ZHIYUN WEEBILL 2. Let's read on!
Introduction of ZHIYUN WEEBILL 2
Having introduced what a gimbal is, let us delve into the new WEEBILL 2 from ZHIYUN, which has got everyone talking.
Now, ZHIYUN WEEBILL 2, just like every other gimbal, is meant to provide support and balance to your camera while shooting, but it also has awesome upgrades that are meant to improve the output of any content creator. The WEEBILL 2 has taken the gimbal game to a whole new level.
Despite the previous models in the market that are performing well, it was clear that there was still room for improvements. The WEEBILL 2, therefore, was developed with improvements and modifications in order to deliver the best shooting experience. For starters, the WEEBILL 2 underwent a complete redesign with other significant add-ons, making it easier and better to use.
So now let us quickly look at some of the upgrades ZHIYUN has made to the ZHIYUN WEEBILL 2 and why they are so awesome:
1. Super improved algorithm
Let's all agree on one thing. The better a gimbal's algorithm, the better the stabilizing power of your gimbal. The WEEBILL 2 has an Infineon sensor and an improved core algorithm with an upgraded motor torque, which gives it more stabilizing power and great flexibility and accuracy, all working to increase its overall performance.
2. Awesome flip-out screen
Perhaps the most significant upgrade to the WEEBILL 2 is the flip-out display. This screen is a 2.88-inch flip-out rotating touchscreen that serves as a control interface for gimbal operations and to monitor shooting sequences.
3. User-friendly design
The WEEBILL 2 came with improvements to the conventional gimbal design, with user-friendliness at the core. The all-metal body, save for the buttons, coupled with its sturdiness makes for durability, and excellent handling also maintains its portability. Button positions and spacing on the WEEBILL 2 are super, located just above the grip to enable easy user access and prevent accidental pressing of other buttons.
4. Versatile focus control wheel
The WEEBILL 2 has a built-in focus control motor that allows the gimbal to adjust to accommodate many of its features like follow focus, zoom. The extremely versatile focus control on the WEEBILL 2 enables cinematographers to shoot steady, shake-free shots in different situations.
5. Better controls
The control on WEEBILL 2 has a massive improvement going for it. For one, there is the joystick, which makes the rotation of the top easier. This joystick functions like that of a game console, very swift, smooth, and responsive. Another upgrade is the pan, follow and lock modes, and a stand-alone button in this model has been incorporated, making it easy to use and not interfere with other functions. All the buttons and controls are placed strategically to find them easily and easy to use.
Choosing Your WEEBILL 2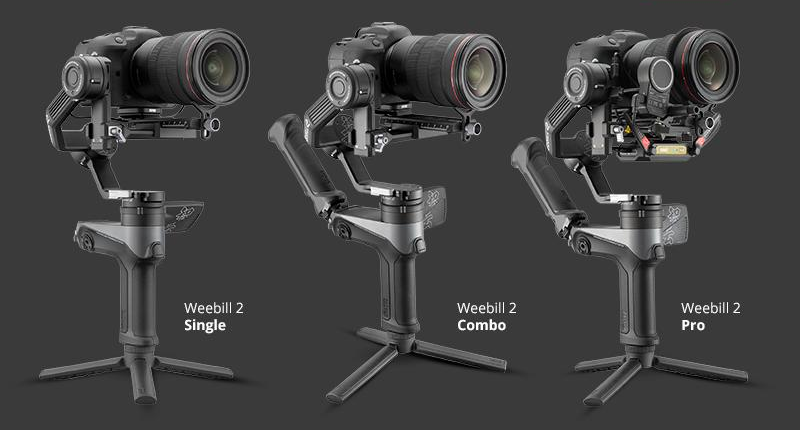 Creating cinematic shots with a DSLR camera takes years of practice and experience to achieve, but filmmakers can shorten the process by utilizing a DSLR camera stabilizer like the ZHIYUN WEEBILL 2 to create those buttery smooth shots, irrespective of the shooting positions and movements.
The WEEBILL 2 now comes in four different combo packs for you to choose from, depending on your strategic preferences and the end-use. The available kits are:
● Special edition kit – This package comes with an additional tripod and a carry case.
● Combo kit – In this package, users get a sling grip handle and carry case alongside the WEEBILL 2.
● Pro kit – Pro kit includes a wireless transmitter, servo, sling grip, and a fabric carry-on case.
● Pro + Kit – Pro+ kit comes with everything in the Pro kit and the ZHIYUN MasterEye Visual Controller VC100
The cost of the ZHIYUN WEEBILL 2 varies with the kit selection. The standard kit and the combo kit costs $549 and $649 respectively. The added features (visual monitor and zoom control motor) of the Pro kit and the Pro plus kit takes the pricing up to $899 and $1099 respectively.
For more information about our products and services, visit our official website here: https://www.zhiyun-tech.com/
Read More