ZHIYUN Blog
ZHIYUN Crane M3 Vs. Crane M2: What is NEW?
2022-01-10
The ZHIYUN Crane series has been one of the most popular handheld 3-axis gimbals in recent years, and it's easy to see why! With the lightweight design, our ZHIYUN Crane M3 is perfect for anyone who wants to film videos without worrying about cramping up their arms or hands.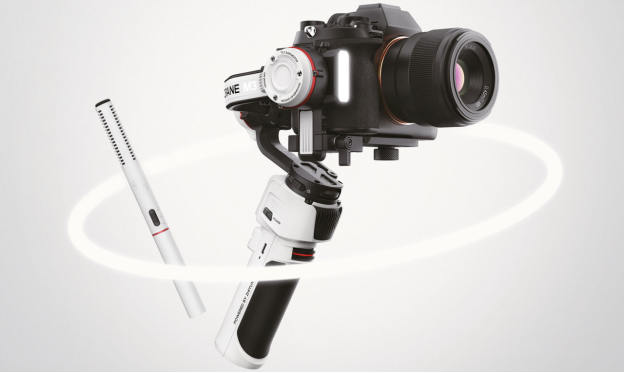 What is New for the ZHIYUN Crane M3?
1. Modular Built-in Fill Light
The ZHIYUN gimbals now come with a built-in LED fill light that eliminates the need for an external source. It is not the end – the Crane M3 even adopts the advanced lumen amplifier technology which raises the brightness for night photography. These two improvements are great news for people who are always on the go and shoot in a dim environment! You can mount your camera, turn it on and start filming without worrying about carrying around extra equipment. The lights are easy to use as well. Simply press and hold the wheel at the side to turn it on. Then, scroll the wheel to adjust brightness or temperature, and effortlessly achieve the effects of warm-light brightness, white-light brightness, and CRI 90+ in your videos.
2. All-New Layout with Interactive UI
The ZHIYUN Crane M3 now comes with an improved layout that is more intuitive to use. It means you don't have to spend hours reading through the manual in order to figure out how everything works!
One of the main features of this design is user-friendly. By simply tapping the UI icons on the 1.22" touch screen, you can conduct an intuitive operation to switch between the Chinese/English menu and check the device status. What's more, the ergonomic buttons and scrolls conveniently reduce your steps to switch modes, control the built-in video light, and adjust settings.
3. Quick Charging
One of the biggest gripes people had with previous gimbal models was that they would quickly drain their battery life. Well, thanks to the new power system which supports PD Fast Charge protocol, the Crane M3 can run for approximately eight hours using its built-in 1150mAh battery that can be fully charged in 2 hours through the included USB Type-C cable. Also, you can charge the gimbal with power banks while using it simultaneously.
If the camera is out of power, you can change the battery instantly due to the remained battery entrance on the two-in-one universal quick release plate, avoiding the inconvenience of reassembling the camera stabilizer.
4. External Microphone Option
The Crane M3 comes with a multi-functional expansion base which provides a 6.5mm audio port to connect wired microphones for audio recording, offering an exceptional sound experience that allows creators to properly sync their videos with audio without the need for re-recording sound over audio.
Crane M3 Vs. Crane M2, What Are the Differences?
1. Design & Color
The main color of Crane M3 is now changed into pearl white and matte black, giving itself a futuristic and elegant appearance. Also, a glowing M3 on the gimbal adds an extra sense of technology. As to provide a more excellent gripping experience than the previous version, the Monopod grip was redesigned with composite materials, so users will feel comfortable holding the devices during long-time shooting sessions!
2. Compatibility:
Compared with ZHIYUN Crane M2, ZHIYUN Crane M3 can be mounted with smartphones up to 170mm (iPhone X), along with multiple extras that you may need to aid your filmmaking experience. It is also compatible with most DSLR/DSLM cameras, such as the Canon Rebel T series / Sony Alpha Series / Nikon D series, etc.
Conclusion
Whether you're a YouTuber or you want to record some extraordinary footage, it's certainly worth checking out the ZHIYUN Crane series. ZHIYUN aims at bringing professional tools for worldwide photographers, enhancing their productivity with comfortable using experience, exquisite craftsmanship, and advanced technology.
For more information, please visit ZHIYUN at https://www.zhiyun-tech.com/en.
Read More