SMOOTH-X2
Shine In Every Way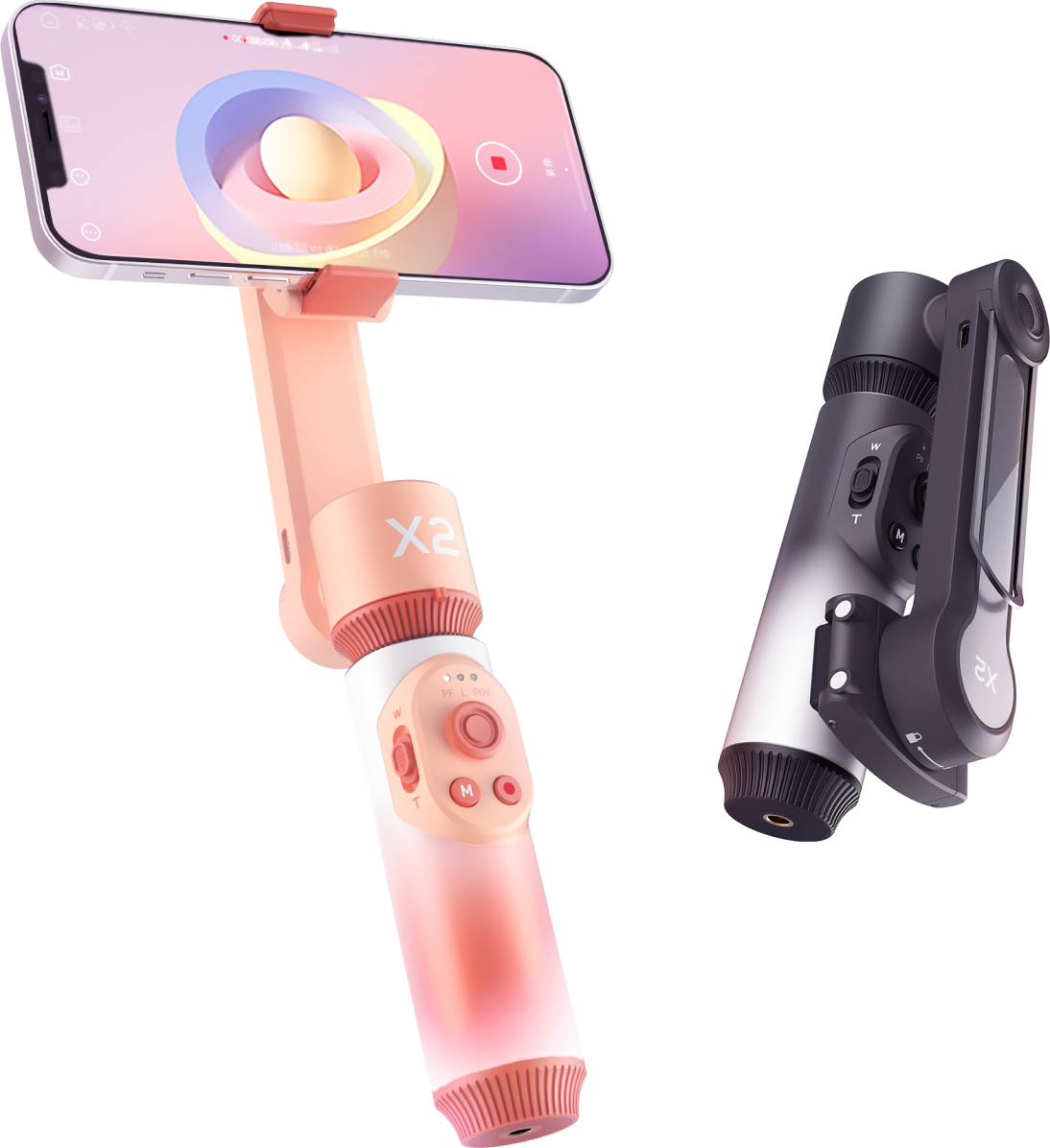 Meet the stylish and powerful SMOOTH-X2. Using a gimbal becomes way more easier with the brand new two-way rotation design. Have fun with multiple smart features and artistic flashing lights to light up the color of your life.
Light. Versatile. Powerful.
A gimbal that weighs only 300g with an integration of an extendable selfie stick, a rotatable tripod and a double-side fill light! SMOOTH-X2 meets your every imagination on a versatile Vlogging setup.
Light but still strong in compatibility with magnetic steel motors of higher torque. Simple balancing and operation even for large phones. A combination of SMOOTH-X2 and your smartphone offers a minimum yet refined Vlogging experience like never before.
More Than Just a Gimbal
The unique reversible latch allows the gimbal to be locked and turn into a solid tripod within a split of a second. Shoot at any angle in selfies by extending the axis. Start livestreaming at any time, anywhere.
Shine Everywhere
SMOOTH-X2 gives you the most comfortable gripping experience with all-new materials. Highly intensive PC with unique painting technique featuring exquisite polishing, sandblasting, and gradient painting. The flashing lights inside the body ooze a sense of unique art of illumination, offering a brand new way to display the battery level by shining lights.
Artistic Illumination
Glowing Twilight Orange
Elegant Ink Black
Unique gimbal with shining lights in your hand.
Rotate, Pull, Shoot
Just one step from packing to shooting, thanks to the innovative 360° rotatable design of the axis. Shooting and carrying SMOOTH-X2 with you has never been easier.
Magnetic Fill Light
Lighter but stronger phone clamp with a foldable design, which comes with magnetic contact points for attaching fill lights. Four brightness levels available with various color filters at your choice to provide different lighting in different situations, no matter the gimbal is powered on or in standby. You can always use it for your diverse style of shooting.
*The magnetic fill light is sold separately.
265mm Extensive Rod
Outstanding 265mm extendable rod which can be adjusted to use in different levels of length. Stretch it out for brand new visions and creative angles.
Smarter Follow
Activate SmartFollow and mark your object on your smartphone screen to secure the spotlight for your object. Newly added follow status indicator light at the axis arm informs you of the current follow status.
Just One Gesture to Start
Shooting has never been easier when you're by yourself or with friends. Show one gesture and let the smartphone do the job.
Cinematic Dolly Zoom
Get cinematic and shoot like a pro with built-in dolly zoom in ZY Cami.
Pano / MagicClone Pano
Get the whole scene in your frame with Pano; Enjoy the MagicClone Pano by striking several poses and arranging them in one picture to show how stunning you are.
Slow Motion
Use ZY Cami for high-resolution slow motion shooting with smartphone.
*Slow motion is not available for smartphones of certain brands and models.
Ready, Cami, Action
SMART Mode
SmartFollow
Online Editing
ZY Cami Video Editor
Live Stream Master
Click for App Details
Chosen Accessories
Dedicated stylish cross-body bag with sufficient storage room for your gimbal and precious accessories.
*Some of the accessories are sold separately.
SMOOTH-X2
Shine In Every Way