ZHIYUN Blog
Reasons to Live Stream with Smartphone Gimbal on YouTube and Facebook?
2021-10-13
Reasons to Live Stream with Smartphone Gimbal on YouTube and Facebook?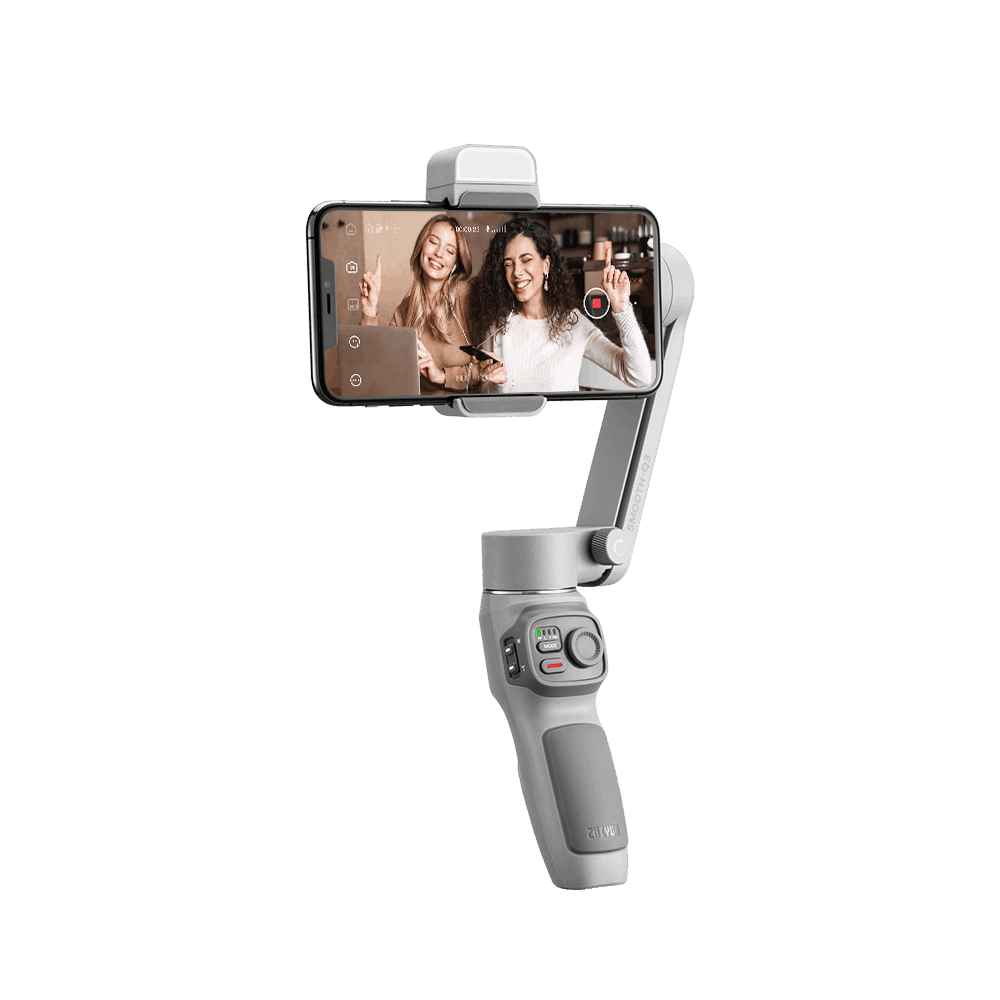 "Whether you're a company, a blogger, or a journalist, live streaming on social media is a great way to build a following and expand your brand."
Social Media Live Streaming is Taking Off
Today, live video streaming has become much more popular. Viewers expect live video, and it's simple to see why. Live video (and video in general) adds more fun to posts that text and images cannot match.
According to the latest Forrester report, brands spent more than $90 billion on video content in just one year (much of it went to social media marketing). That figure is expected to exceed $103 billion by 2023.
Maintaining a social media presence while live streaming can feel like spinning plates at times. This does not have to be the case; live streaming across social media platforms can be simpler than you might think.
What is a Smartphone Gimbal, And How It Can Help in Live Streaming?
Armed with motors and sensors, a gimbal is a tool that allows your smartphone camera to rotate comfortably along an axis. It helps to stabilize your phone as you tilt, pan, and roll, allowing you to film fluid, seamless footage while on the move.
While gimbals are useful for shooting stills from different angles, they are also vital for videographers and live streaming. With a smartphone gimbal, you have the freedom to film while remaining confident that your footage will be steady and blur-free.
Live streamers and videographers who have been doing that for a while may be used to dollies or other video-making tools. Though gimbals cannot completely replace these, they are much more portable, which is wonderful news for video creators on the go.
A tripod will, of course, assist you in filming smooth footage – but it will not provide the same speed and versatility in moving your phone as a motorized gimbal. As a result, many brands and videographers prefer to use a gimbal to stabilize their cameras during live streaming.
Smartphone Gimbal at the Forefront.
In addition to shooting steady footage, handheld gimbal stabilizer has following advantages:
· When compared to other professional stabilization equipment, they are easier to set up.
· They're light and portable, which is crucial if your videography frequently takes you on adventures.
· They allow you to film for longer periods while remaining comfortable with your smartphone.
· They allow you to easily change the direction of your camera, which can reduce the amount of time you spend shooting.
· They make it feasible to attach other camera accessories, such as microphones.
· They provide a more secure grip on your smartphone camera.
ZHIYUN's Video Contest 2021
ZHIYUN, the world's most popular smartphone gimbal brand, is proud to present the return of the ZHIYUN Annual Short Video Contest for a third year. The previous ZHIYUN Annual Short Video Contest featured generous cash prizes, cameras from premium sponsor Nikon, as well as equipment from ZHIYUN and other partners such as Hollyland, RDE, YoloLiv, Atomos, Leofoto, Aputure, Peak Design, and YC Onion.
This event, which offered prizes of up to $10,000, drew 600 entries from more than 50 countries and regions. The Annual Short Video Contest 2021, ZHIYUN's third short video contest with prizes, has officially launched and will embrace submissions until October 20th, 2021.
More than 50 countries and regions worldwide competed in the Annual Short Video Contest, with over 10,000 creators submitting videos. According to ZHIYUN, "the event's exposure reached 2 billion times globally, creating a hype in the field of video creation and attracting the support of short video fans."
ZHIYUN's Video Contest Requirements
Videos should last between one and ten minutes, with a two-second ZHIYUN logo intro. Although there are no restrictions on the equipment used for videos, winners whose videos feature ZHIYUN products will get spectacular prizes. Entries may be submitted through YouTube or the ZY Play App.
Live Stream with ZHIYUN Handheld Gimbals
When it comes to shooting smoothly, professional-looking video footage, ZHIYUN gimbals are unmatched. If you want to prevent the amateurish shaky-cam look in the ZHIYUN video contest, then a ZHIYUN handheld gimbal must be your first port of call. Modern cameras and some high-end smartphones have internal stabilization systems that help a little, but nothing compared to a good gimbal.
Even if you only want to shoot a video for a ZHIYUN video contest, live streaming, or on an amateur level, you'll be amazed at how much better the results are with a ZHIYUN gimbal. Furthermore, most of them are very inexpensive, allowing you to get professional results at reasonable prices.
For more information, please visit ZHIYUN at: https://www.ZHIYUN-tech.com/.
Read More